Imagine That a Potential Customer or Client is Looking to Get a Preview of Your Company, Products, or Services
Maybe they found you on the web or someone referred you. That's a good start, but Have You Noticed That People are Busy, Easily Distracted, and generally more Skeptical? That's why today…
Websites and Social Media have a Much Bigger Job to Grab, Engage, and Hold Viewer Attention
In a crowded marketplace, we here at the Video Marketing Edge, believe that communication should reflect higher levels of authenticity, less spin, and prove up what truly makes your company stand out.
As you'll soon discover in case studies & work samples seen throughout this website, Our Video and Content Marketing Services are Proven to Drive More Sales, Generate More Money, and Promote Business Growth.
Thanks for visiting today. Now, where do you want to go?
If you are interested in developing CONTENT or, what makes your business stand out, a concise message or story for your website, social media, a video, or maybe you want to document your marketing strategy click on content.
If you are interested in developing short VIDEO for your landing, social media, presentations, or trade shows click on video.
Need a SPEAKER for your next meeting? Click on speaker.
---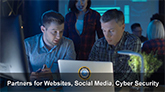 Web developers, social media and cyber security experts can help you to generate leads…